Drug Use Today
Drug Testing your teenager is a thought that almost every parent had at least once in their life. So you certainly are not alone.  Today, recreational drugs, prescription medication, and countless other deadly drugs have never been more accessible.  As the drug epidemic continues to get worse, opiates like heroin and fentanyl take the spotlights becoming the highest killers among drug addiction.  Street drugs of this potency sometimes result in tragic overdoses even during the first time of use.
These results are certainly terrifying as it's the effect on the general public can be seen taking as never before seen statistics are proving that accidental drug overdose is now the leading cause of death for individuals under 50.  Though many individuals are certainly vulnerable to the misuse of prescription meds and recreational drugs, there is one particular group of individuals that is in danger – more so now than ever.
Teen Drug Use
As the top three substances of choice for youths are alcohol, marijuana, and vaping products, the truth is: opioid abuse and more potent and potentially harmful drugs are still a growing concern – especially with adolescents.  HHS.gov reports:
In 2016, more than 42,000 people were killed by opioids. Across 52 areas in 45 states, opioid overdoses increased by 30 percent from July 2016 through September 2017. In October 2017, President Trump declared the opioid crisis a public health emergency and pledged resources to address it.
As the opioid crisis grows, teenagers are certainly in danger of becoming part of these staggering statistics.  Even more so – the effects of these deadly drugs can have a more drastic and potentially deadly effect on youngsters.  Consider information reported from AddictionCenter.com.  They report:

Long-Term Effects of Drug Use
The prolonged use of drugs can cause serious damage to the brain, especially those critical to memory.  Drug abusers start having a lack of coordination and tremors and eventually results in paralysis.
"Teen drug abuse can have long-term cognitive and behavioral effects since the teenage brain is still developing."
This is one of the most dangerous truths among teen drug abuse.  Teens who abuse drugs have a greater likelihood of developing an addiction habit as adults. Why? Information from TheRecoveryVillage.com explains why exactly youths are prone to addiction habits.
"Teenagers are still developing parts of the brain involved in judgment and decision-making. Drug use early in life can impair the development of parts of the brain that would normally protect us from further drug use."
A teenager may reason that they are simply "experimenting".  However, experimenting may have detrimental effects on them.  Because teenagers are going through a pivotal part of development.  Depending on the kind of substances used, the brain will produce more dopamine.  Some other substances stop pain signals causing euphoria. After repeated use, the effects of drugs on the teenager's brain can permanently alter the way your teen's brain functions.
Purchase your 12 Panel Drug Test HERE!
Seek Help For Your Teen
Today, teenagers are under a tremendous amount of pressure.  America's Teenage Suicide rate is growing at an alarming rate.  Why does this happen? What can we do to help those in need?
According to D'Amore Mental Health:
"Teenagers feel a strong pressure to succeed, and they can also feel frustrated and anxious about their future. New situations (such as moving to a new location or starting at a different school) can feel daunting and intimidating.

If you have a teenager you care about in your life, it's important to be aware of the mental health and suicide risks they are facing. On this resource page, you'll find answers to some of the most common questions about teenage suicide and practical information for what to do if you are concerned about a loved one."
For more information on Teenage Suicide and additional family resources, visit D'Amore Mental Health.
Signs That Your Teen Use Drugs
Are there early signs of addiction in teenagers?  In many cases, there are.  Delphi Behavioral Health Group is a family of facilities offering individualized treatment for all levels of addiction.  They comment on the Early Signs of Addiction in an Online Resource.  The signs of drug usage in teens can be noticeable. Sometimes it takes a few weeks for the signs to occur, and sometimes signs can be observed during use.
●         Confusion

●         Depression

●         Paranoia

●         Drug craving

●         Sleeping problems

●         Severe anxiety
Few physical symptoms can occur if someone is involved in drug abuse.
●         Involuntary teeth clenching

●         Chills or sweating

●         Nausea

●         Blurred vision

●         Muscle tension

●         Rapid eye movement

●         Faintness

●         Increases in heart rate and blood pressure
Should I Purchase a Single Use Drug Test?
12 Panel Now offers Drug Tests in Bulk, or for single use. If you are concerned about testing sobriety on your teen, or perhaps for another purpose, it's a fairly easy process taking only a few minutes.  Our Single Use 12 Panel Drug Test tests for 12 commonly abused drugs.
After the donor seals the urine in the leak-proof container, it is then handed off to the evaluator.  What makes the process streamlined is that the strips used to indicate the test results are sealed within the container.  For hygiene reasons, this is ideal.
When it is time to view the test results, the evaluator simply peels away the outside label revealing the drug test strips with each result. The test results within the Drug Test will show results within a few minutes.  Results should be evaluated within 5-8 minutes. Results should not be evaluated after 1o minutes.
The 12 Panel Drug Testing Kits test for 12 of the most abused and commonly used drugs. However, depending on your needs, you can purchase other kits that test for different drugs.  For instance, the 13 Panel Drug Testing Cup includes all the same drugs tested within a 12 Panel Drug Test with the addition of the drug Fentanyl (FYL).  There are also variants of the typical 12 Panel Drug Test, including drugs like phencyclidine, or PCP.
If you have any questions or concerns regarding our product or wish to place an order, feel free to call us at (888) 936-6627
We're  Here to Help!
Here at 12 Panel Now, we take Drug Abuse seriously, especially the effect Drug Abuse has on our loved ones.  We are happy to provide information and spread awareness regarding these topics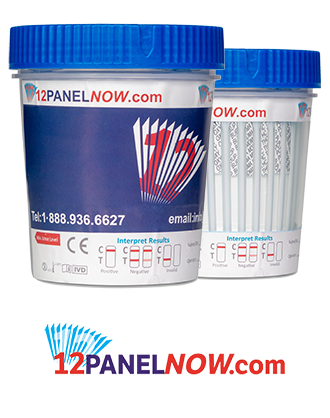 and more!  Every Tuesday, we publish a Blog with information on current events and insights regarding our products!  We also provide the nation's most affordable Drug Testing Supplies, including Drug Testing Cups and Strips both for personal, and medical use.  If you have any questions or comments, please feel free to contact us or send us an email!