What is an EtG Test?
The 12 Panel Drug Test with EtG is a CLIA waived and FDA approved POC (Point-of-Care) urinalysis cup. This urine drug test kit is designed to be both cost-efficient and reliable; suitable for both clinical uses or as a home test.
This test contains the same drug panels as the conventional 12 Panel drug test from 12 Panel Now with the inclusion of the EtG test strip.  This test displays accurate results in as little as 5 minutes after the urine sample is collected. EtG strip Forensic use only.
What is EtG on a Drug Test?
EtG stands for Ethyl glucuronide.  Ethyl glucuronide is a metabolite of ethanol.  When someone consumes alcohol, EtG is a byproduct that is produced.
EtG can be detected in urine up to 80 hours (3.3 days) after last alcohol consumption. This is more sensitive and has been the preferred method of drug screening for those who need to verify sobriety.
What Does a 12 Panel Drug Test Detect
| | | | |
| --- | --- | --- | --- |
| Drug Name | Abbreviation | Detection time | Cut-Off Level |
| Amphetamines | AMP | 1-2 Days | 1000 ng/mL |
| Barbiturates | BAR | 1-4 Days | 300 ng/mL |
| Benzodiazepines | BZO | 1-2 Days | 300 ng/mL |
| Buprenorphine | BUP | 2-6 Days | 10 ng/mL |
| Cocaine | COC | 2-4 Days | 300 ng/mL |
| Ecstasy | MDMA | 2-4 Days | 500 ng/mL |
| Marijuana | THC | 5+ Days | 50 ng/mL |
| Methadone | MTD | 1-3 Days | 300 ng/mL |
| Methamphetamine | mAMP (or MET) | 2-4 Days | 1000 ng/mL |
| Morphine | OPI | 2-3 Days | 300 ng/mL |
| Oxycodone | OXY | 1-3 Days | 100 ng/mL |
| Nortriptyline | TCA | 2-7 Days | 1000 ng/mL |
| Ethyl-glucuronide | EtG | 1-3 Days | 500 ng/mL |
How to Use a 12 Panel Drug Test With EtG?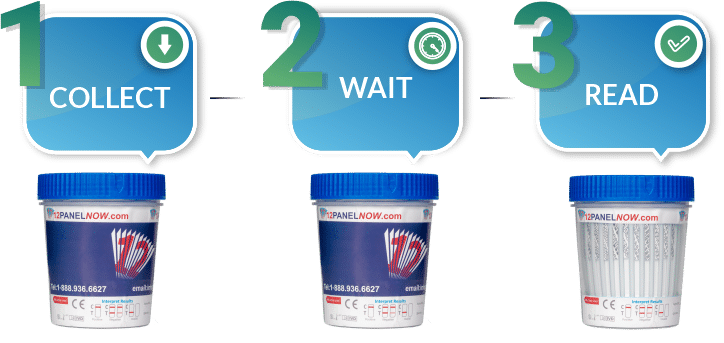 COLLECT
Remove the urine drug test cup from the sealed pouch and use it as soon as possible.
WAIT
At 2-4 minutes, verify the temperature of the specimen by observing where the green dot appears. A green dot will appear on the corresponding temperature line.
READ
Peel off the label when you're ready to interpret the results. Test results should be read within 5 minutes. Do not interpret the result after 8 minutes.
How to Read a 12 Panel Drug Test With EtG?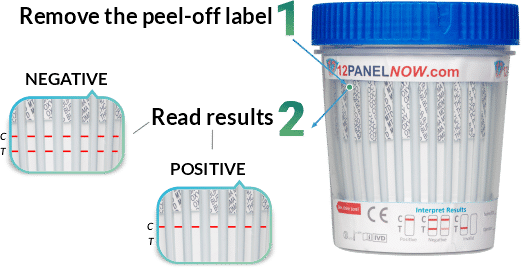 Effects of Alcohol Abuse in the Workplace
Many employers today employ functioning alcoholics who are struggling with alcohol abuse and may not be aware.  For this reason, many companies are implementing a Drug-Free Workplace policy where they promote a zero-tolerance drug and alcohol-free environment.  For companies that require regular use of heavy machinery, or perhaps those in public safety, mandatory drug tests can be expected.
Part of the requirements of employers is to provide a safe workplace where employees can thrive.  Many employers would consider pre-employment drug screening tests, as well as randomized drug testing soon after the hiring process their responsibility to their staff.
12 Panel Now offers 12 Panel Urine Drug Tests that specifically detect the presence of alcohol. This test includes an EtG strip.  This is a sensitive test that detects the use of alcohol up to three days after last consumption.  For those who are looking to specifically test for EtG and nothing else, a Single Panel EtG Test strip is available as well.
Does a 12 Panel Drug Test for Alcohol
Normally, an alcohol test has to be specially requested.  Alcohol test strips are not always included in conventional urine tests.  Some multipanel drug tests do have EtG (Ethyl glucuronide) strips or ALC (Alcohol) strips as one of the drugs included.
Many companies require that their employees submit to alcohol testing to maintain a safe, healthy, and productive working environment. However, according to employers, workers under the influence of alcohol are less effective and more prone to workplace accidents. 
Under these circumstances, it would be wise to add Alcohol detection to the screening procedure. An ETG urine test is also appropriate for post-accident testing or recent use of illicit substances. ETG tests can also be performed on blood, nails, and hair, however, urine tests are the most common.
An EtG Test is one of the most effective ways to verify sobriety.  EtG is detected on many multidrug tests like the 12-Panel Drug test, however, it is also available as a Single Panel Test strip.  Single Panel Test strips are useful for those who wish to test for only one substance.  A Single Panel EtG Test Strip is available from 12 Panel Now