Hydrocodone Drug Test
The Hydrocodone Drug Test is a Fast and Accurate way to screen for the Hydrocodone
12 Panel Now's each Hydrocodone Urine Test Contains a 99% Accuracy Rating
This Test Has a Cutoff Level of 300 ng/ml
Test Results are Displayed within 5 Minutes
The Test is Easy to Use, Positive and Negative Results are Indicated Clearly
Hydrocodone Urine Dip Tests are Packaged 25 dip tests per Pack
Highly Accurate and Sensitive Single Panel Dip Test
A Great Urine Drug Screening Solution when Laboratory Tests or Blood Tests are Impractical!
Forensic Use Only
Hydrocodone Drug Testing Facts
Hydrocodone Drug Testing Facts : Hydrocodone is a commonly used opioid medication prescribed for severe pain and cough reduction in adults. It is similar in structure to codeine but has a significantly more potent painkilling effect.
Hydrocodone was a schedule III drug until 2014 when increasing attention was paid to the opioid epidemic and pressure from health advocates convinced legislators to upgrade it to schedule II. 
The federal government considers Schedule II drugs to have an important medical value with a high potential for abuse. Even after raising hydrocodone to Schedule II, the FDA banned its use in children under the age of 18 in 2018.
In recognition of these dangers, hydrocodone is supposed to be given out sparingly and under strict physician supervision. 
How to Use the Hydrocodone Urine Test: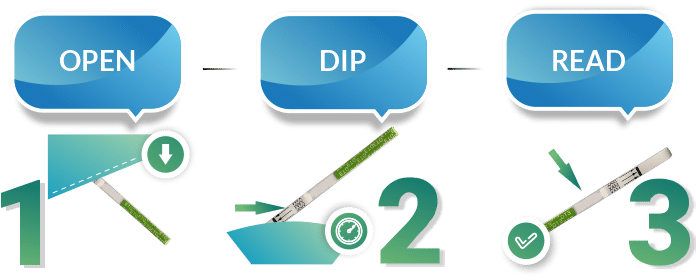 Hydrocodone Urine Test Instructions:
Remove the hydrocodone drug test from its sealed pouch and use it as soon as possible. For best results, perform the assay within an hour.

Next, hold the dipstick by the end, where you can see the product name. To avoid contamination, do not touch the test membrane.

Then, holding the test vertically, dip the test in the urine specimen for at least 10-15 seconds. Do not immerse above the maximum line (MAX) on the test. That's about 1/5th of the way up the test.

After the hydrocodone drug test has finished, remove the test from the specimen and place it on a non-absorbent flat surface. Start the timer and wait for the colored band(s) to appear. Read the result at 5 minutes. Do not interpret it after 10 minutes.
Hydrocodone Side Effects
Opioids like hydrocodone act on multiple types of opioid receptors in the brain. When activated, these receptors trigger inhibition of nociceptive, or pain-related, neurotransmitter release in the brain.
This reduces the perception of pain, with the added effect of imparting a relaxing state of mind.
Although this is very helpful for people struggling with intense pain, opioids are highly addictive and lethal at high doses. The most common way to take hydrocodone pills and liquid is by mouth.
However, many users have been known to snort or smoke the pill form. This poses extra dangers, as it hits the bloodstream much more quickly through these ingestion methods than orally, resulting in intoxication in seconds rather than minutes
Hydrocodone Addiction
Opioid addiction is treated with a multi-pronged approach of education, psychological support, peer networks, and medication. Many people find successful relief in 12 step programs or inpatient rehabilitation.
Opioid replacement therapy is a pharmaceutical approach where the drug of abuse is replaced by another opioid that is less reinforcing but still reduces withdrawal symptoms.
The most common medications for this are buprenorphine and methadone. Unfortunately, these drugs are also addictive, so patients still must deal with opioid withdrawal syndrome, just to a more manageable degree. Nevertheless, the combination of these strategies can give hope to recovering addicts for a more normal future.
Evaluating Your Test Results
How Long Does Hydrocodone Stay in the System?
Testing for hydrocodone use may be necessary for multiple contexts. This could be for pre-employment, as part of a recovery program, or as a random test.
How long hydrocodone stays in one's system is dependent on many factors, but generally, it is detectable for 2-4 days after use. This means that testing may need to be performed more frequently to ensure sobriety. 
Those who are commonly prescribed opioids should see their primary care physician before submitting a urine drug screen.
Prevalence of Illegal Use and Addiction
Opioid misuse is widespread. Over 2 million people in the US suffer from opioid use disorder. In 2011, 136.7 million prescriptions were written for hydrocodone alone.
Currently, it is estimated that over 90 people in America die from an opioid overdose every day, and over 1000 are sent to the emergency room for overdose symptoms.
Side Effects of Hydrocodone
Hydrocodone has numerous side effects that act on multiple organ systems. In the cardiovascular system, hydrocodone can cause peripheral edema and fluctuations of blood pressure. Opioids are well known to cause gastrointestinal symptoms like constipation, vomiting, and abdominal pain. Hydrocodone can induce neurological adverse effects such as insomnia, drowsiness, dizziness, and anxiety. 
Most troubling, however, is its effect on the respiratory system. Opioids in excess can cause respiratory suppression that leads to suffocation and death. This is compounded when considering its strength. Comparing hydrocodone vs tramadol, hydrocodone is much stronger. When looking at hydrocodone vs. oxycodone, however, the difference is nominal, albeit leaning towards oxycodone.
Where Can I Buy a Drug Test?
A drug test checks for the presence of illegal substances in the body to confirm whether or not a person has taken a certain drug or drugs. 
Choosing a drug test that suits your needs depends on your personal requirements. For employers, their corporate policies, and the laws their industry is in. In general, current trends and the number of drugs they are going to test for?
Drug testing supplies are available at pharmacies and on the internet.
Try checking the 12Panel Now Store. It is a convenient one-stop shop where you can explore a collection of the most affordable drug testing supplies.
How Often Are Random Drug Tests Done?
Random drug testing is important to ensure a drug-free workplace policy. The frequency of drug testing is dependent on the kind of company.
The best practice of this is to keep everything random and to have a neutral selection of people for testing. Contrary to popular belief, there is no 24-hour period to get a random test completed. Employees are immediate to be tested when they are selected.
For non-Department of Transportation (DOT) regulated companies, it is not even required. For DOT-regulated agencies, random drug testing is mandatory. Each one has a required annual percentage rate for random testing.  
Does Hydrocodone Show up on a Drug Test?
Yes, Hydrocodone may be detected on a standard drug test that detects opioids. 12 Panel Now provides a Hydrocodone Specific Single Panel Urine Test for this purpose.
Do at Home Drug Tests Work?
Home drug tests work and can be considered fairly accurate if they are administered correctly. There are a number of factors that can affect accuracy, including:
if first-morning urine was used since it's the most concentrated urine of the day, which makes it best for drug detection

what the subject ate or drank before the test

whether the test was performed correctly

if the subject took any medication before the test