Norfentanyl Drug Test
The Norfentanyl Drug Test kit from 12 Panel Now is a Great Drug Screening Solution for Norfentanyl Urine detection
All Norfentanyl Urine Test Strip is 99% Accurate
The Norfentanyl Test contains a cutoff level of 20 ng/ml
Accurate Test Results are Displayed within 5 Minutes
The Test is an Easy to Use, Fast Acting Rapid Test that is Convenient and Simple
The Norfentanyl Urine Test Comes as Pack 25 at the Minimum
Norfentanyl is a Metabolite of Fentanyl, an Opioid that is Stronger than Morphine
It is Always Recommended that Positive Results are Verified with a Lab
Results are Easy to Read (Instructions are Always Included)
This is a One-Step Rapid Test, No Other Equipment Required
Forensic use only
What Is Norfentanyl?
Norfentanyl is a metabolite of the drug fentanyl. A metabolite forms as your body processes the substance and begins to break it down.
Fentanyl is a synthetic opioid compound that people use recreationally. This drug is very fast-acting and comes in injectable, transdermal, and oral forms.
The drug interacts with receptors of the brain to produce a sedative effect similar to that of morphine. However, in the case of fentanyl, the drug is 50 to 100 times more potent.
Fentanyl is a prescription drug but it's also made and used illegally. For medical purposes, it's often prescribed as a method of pain management. It's usually given to patients who are physically tolerant of other opioids. A tolerance occurs when you need a higher dosage of a drug to achieve the desired effect.
Experts say that synthetic opioids, like fentanyl, are the drugs responsible for the most deaths in the United States.  Norfentanyl urine detection has never been more relevant as it has become today.
Test Strip Instructions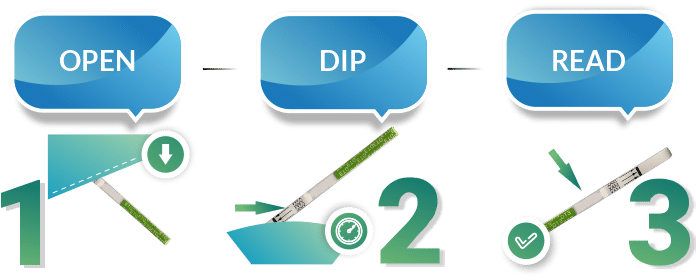 How To Use the Norfentanyl Drug Test Strip:
Remove the test from its sealed pouch and use it as soon as possible. For best results, perform the test within an hour.

Hold the strip by the end, where you can see the product name. To avoid contamination, do not touch the strip membrane.

Holding the strip vertically, dip the test strip in the urine specimen for at least 10-15 seconds. Don't immerse above the maximum line (MAX) on the test strip.

After the norfentanyl drug test has finished, remove the strip from the specimen and place it on a non-absorbent flat surface. Start the timer and wait for the colored band(s) to appear. Read the result at 5 minutes. It is recommended not to interpret it after 10 minutes.
Using Fentanyl
If it's a prescription by a medical professional, they will usually administer a shot. They can also prescribe a patch to go on the patient's skin or fentanyl lozenges that work the same way as cough drops.
The type of fentanyl most often associated with overdoses is illegally created in labs. It can come as a powder, put onto blotter paper, or put into eye droppers or nasal sprays. This synthetic fentanyl can also come in pill form.
Where things really get dangerous is when drug dealers begin to mix fentanyl with other drugs. The synthetic opioid is being combined with other recreational drugs like heroin, cocaine, methamphetamine, and MDMA.
Drug dealers do this as a way of cutting costs. It takes very little synthetic fentanyl to produce a high. Therefore, it's a cheaper option for drug dealers.
The problem is that drug dealers aren't making people aware that their drugs may contain fentanyl. If someone takes a drug with fentanyl in it without knowing, it can be extremely dangerous.
They may be ingesting opioids that are more powerful than their body is used to. The result can be a very dangerous, if not deadly, overdose situation.
How Does Fentanyl Affect the Brain?
Fentanyl, like other opioids, attaches itself to the brain's opioid receptors. These receptors exist in the areas of the brain that control pain and emotion. This is why doctors use opioids as pain management tools.
Opioids can be useful for patients when they receive a prescription and use them properly. However, these patients need to be careful. The way they interact with the brain makes them highly addictive medications.
Once someone has taken an opioid such as fentanyl for a long period of time, their nervous system starts to become numb.
As a result, it becomes hard for the user to feel pleasure from anything else besides using the drug. At that point, a person is addicted on a biological level.
Once biological addiction occurs you will start to see drug use, and the search for drugs, take over a person's life.
Side Effects of Fentanyl
Most people begin using fentanyl for the feelings of extreme happiness it can create. However, there are several negative side effects as well.
People who use fentanyl may experience nausea, constipation, confusion, and drowsiness. Fentanyl also creates a feeling of sedation in its users. This sedation can cross over into unconsciousness and problems breathing in certain overdose situations.
A fentanyl overdose can lead to life-threatening symptoms. If someone overdoses on the drug their breathing can slow down or stop completely. If that happens it can create a condition called Hypoxia.
Hypoxia is a medical condition when an insufficient amount of oxygen reaches the brain. It can result in a fentanyl user slipping into a coma or suffering brain damage. Hypoxia can even lead to death.
The good news is fentanyl overdose can be treated. If someone has overdosed on fentanyl, the best plan of action is to seek medical help immediately.
Fentanyl overdoses can be treated with a medication called Naloxone. But, since fentanyl is much more potent than other opioids, multiple doses of Naloxone may be needed to offset the overdose.
The Dangers of Fentanyl Addiction
All opioids are considered highly addictive. There are countless stories of doctors prescribing opioids only to have their patients become addicted to them. That's how strong the addiction to opioids can be.
A patient with a prescription for an opioid medication may experience withdrawal symptoms when the medication stops. This is called dependency.
Someone can be dependent on a substance without being addicted. But, dependence can also lead to addiction.
What makes fentanyl even more dangerous than legal opioids is that it's much more potent. Therefore, users are much more likely to develop dependence and then addiction. Addiction can be scary because an individual will continue to use the drug regardless of what it's doing to them.
It may cause them mental and physical pain. They will continue to do whatever they need to in order to find and use the drug.
This is the point of their addiction that usually begins to hurt their friends, family, and others around them.
More About Norfentanyl
Norfentanyl comes into play after the fentanyl is already in the user's system. It's called a metabolite of fentanyl because it's a byproduct of your body metabolizing the drug.
How Long Does Norfentanyl Stay In Your System?
The high of fentanyl use typically last anywhere between four and six hours. But, norfentanyl can still show up in your system anywhere from 24 to 72 hours after use. This is why a norfentanyl drug test can be useful to see if a family member is using fentanyl.
A popular question is "how long does norfentanyl stay in urine?" If someone only uses fentanyl a few times, then norfentanyl will only stay in their urine for two to four days.
If, however, someone is a habitual user of fentanyl, norfentanyl can stay in their urine for up to 7 days.
Where Can I Find A Norfentanyl Drug Test?
If you want to find out if someone is using fentanyl, a norfentanyl drug test will probably be the most effective method to accomplish norfentanyl urine detection.
12 Panel Now offers norfentanyl drug tests you can have shipped right to your home. We offer convenient single-use, at-home tests.
The norfentanyl test comes in an easy-to-use test strip form. These tests can be purchased for as low as $.49 per strip.
You can also purchase the norfentanyl test in dip card or dip test format.
Withdrawal Symptoms
People suffering from fentanyl addiction who try to stop the drug can experience a wide range of withdrawal symptoms. Severe cravings, diarrhea, vomiting, sleep problems, and muscle pain are all common withdrawal symptoms.
Users that are detoxing from fentanyl use may also experience bone pain, cold flashes with goosebumps, and uncontrollable leg movements.
Withdrawal symptoms present a challenge to a person's recovery. These symptoms, especially in the case of opioids, can be so severe that they drive a person to use again just to stop the symptoms. This is why medically-assisted recovery is recommended in most cases.
Where Can I Get a Personal Drug Test?
Drug test kits for personal or home use can be purchased over the counter at any retail drugstore, pharmacy, or supermarket chain. Online retails shops also carry a variety of drug test kits for personal or home use.
Whether drug test kits are purchased over the counter or online, make sure to check for accuracy of results and clear instructions for ease of use. Since there is a variety of drug test kits available, you also need to ensure that the drug test kit that you purchase will test a particular drug of abuse.
Check too that the drug test kit is CLIA waived and cleared for marketing by the FDA.
Do They Drug Test at Hiring Events?
Testing applicants at hiring events are allowed by state laws. However, certain rules must be followed by employers if they are planning to do so.
As part of this, notice must be provided and procedures must be followed to prevent discrimination and inaccurate samples. Furthermore, states allow applicant testing only if the following conditions are met:
Applicants are aware that drug testing will be part of the hiring process. The job application clearly specifies that testing for drugs is a requirement.
An employer has already offered the applicant the job if he/ she passes a drug test.
The same tests are given to all applicants for the same job.
A state-certified laboratory administers the tests.
What Comes First - Background Check or Drug Test?
Answers vary by employer, location, and background check laws. Typically, the background check will occur before or around the time of the drug test. However, when determining when specific checks are run, employers need to follow state and local laws. 
Many employers check into an applicant's background before making a job offer. Most often, this includes employment history checks, credit checks, or criminal background checks.
On the other hand, during and after the hiring process, employers may also require a drug test. In this way, it can check if the applicant is using illicit drugs, alcohol, or prescription medicines beyond an acceptable level. So, the workplace becomes a safe, healthy, and drug-free environment.
Do Advertising Agencies Drug Test?
Currently, about 56% of all employers now require pre-employment drug tests based on a report. Federal and state law mandates drug testing mostly in industries such as health care, transportation, aviation, heavy manufacturing, and construction.
In places of employment where impairment can result in loss of life or limb or harm the health and well-being of others, drug testing is of great concern. 
However, drug testing is not mandatory in all industries, so employers have the choice to conduct them or not. Among these are personal services, information technology, real estate or financial services, as well as marketing or advertising agencies.
What Can Cause a Failed Drug Test?
A failed drug test can mean either a positive test result or problems in the testing process that affect the result of the test. It can also be caused by food or medication taken before testing.
A failed drug test due to a positive drug test result means the drugs tested for are detected in the body. The individual failed the drug test because drugs are present in his body above the cut-off level, indicating the use of the drugs tested for.
A failed drug test can also mean a breach in the integrity of the testing process thereby affecting the results of the test. The breach in testing protocol may occur in specimen collection, handling, or storage.
Difference Between Urinalysis and Drug Test?
Urinalysis and drug tests both require a urine sample.
The difference is in the purpose and use of results.
Urinalysis can assist detect serious illnesses such as kidney disease before symptoms appear. It helps in the early diagnosis and treatment of illnesses before they progress to more severe levels.  Clinicians use urinalysis results to treat ailments and manage treatment plans. 
Drug test, on the other hand, determines the presence of drugs ingested and results help
to prevent abuse of controlled substances,
to encourage appropriate entry into addiction treatment, and identify an early relapse, and improve outcomes of addiction treatment.
Clinicians are not the only users of drug test results. Employers and law enforcement agencies do.