PCP Drug Test Strip
Phencyclidine (PCP) Drug Test Strip is a preliminary test for detecting Phencyclidine (PCP) in urine at the cut off of 25 ng/ml.
Sensitive one step rapid test with 99% accuracy
Fast-acting (Results within 5 minutes)
For at-home or clinical use
Results are easy to read
Certifications from CLIA and FDA
Detection time of PCP in urine is up to 14 days after consumption
What is Phencyclidine?
Phencyclidine, more popularly known as PCP or angel dust, is used mostly for its mind-bending effects.
Typically, users snort PCP or inject it into a vein. Once it enters the system, PCP concentrates in the brain and fatty tissues.
Effects of PCP
When taken in small doses, PCP  stimulates the central nervous system. Consequently, it boosts a user's wakefulness and alertness.
Additionally, it decreases the senses of pain and touch, giving the user an overall feeling of wellbeing.
However, large doses of Phencyclidine (PCP) can lead to death due to convulsions, heart and lung failure, and coma.
Why Test for PCP?
Phencyclidine is a Schedule II drug. Therefore, it has a high potential for abuse which may lead to severe psychological or physical dependence.
Sadly, PCP is predominantly abused by young adults and high school students. Some of them start as early as 12 years old.
The Addiction Center states that the "majority of adults with an addiction first experimented with drugs before they turned 21."
Why let our children become lifelong victims of PCP abuse when we can nip it right in the bud through efficient drug tests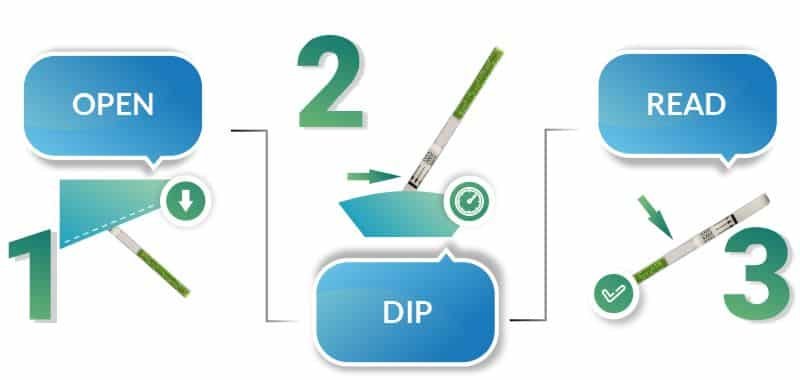 PCP Drug Test Strips Procedure:
First, remove the urine PCP drug test strip from the sealed pouch and use it within one hour
Second, immerse the strip into the urine with the arrow pointing towards the urine
Third, take the strip out after 15 seconds and lay the strip flat on a clean, dry, non-absorbent surface.
Finally, read the result in 5 minutes.