What is a methadone drug test strip?
12 Panel Now's Methadone Urine Test Strip (MTD) is a preliminary test for detecting MTD at the cut off of 300 ng/ml. With 99% accuracy, and certifications from CLIA and FDA, it is a test strip you can rely on for your drug testing needs.

Fast and efficient drug testing process at only $ 0.79 per strip! 
What is Methadone?
Doctors prescribe methadone for treating opioid addiction. This synthetic opioid agonist acts on the opioid receptors in the brain that are activated by opioids like morphine, heroin, and opioid-based pain medication.
However, unlike heroin, morphine, or opioid pain relievers, methadone acts slowly. Additionally, it does not produce euphoria in a person with an opioid disorder.
Why Test for MTD?
Methadone is a Schedule II drug. Therefore, it has a high potential for abuse which may lead to severe psychological or physical dependence.
Some people abuse it for chronic pain relief. Others use it to get high. Sadly, abusing or misusing this drug can lead to fatal consequences.
Thus, the need for testing MTD.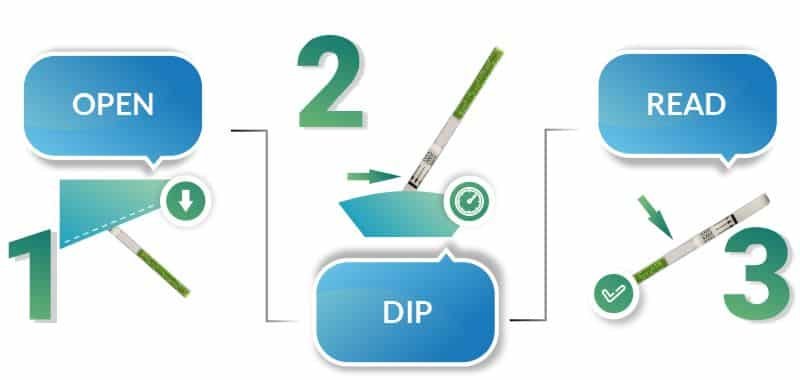 Methadone Drug Test Strips
Methadone Drug Test Strips Procedure:
First, remove the Methadone drug test strip from the sealed pouch and use it within one hour
Second, immerse the strip into the urine with the arrow pointing towards the urine
Third, take the strip out after 15 seconds and lay the strip flat on a clean, dry, non-absorbent surface.
Finally, read the result in 5 minutes.
What are the side effects of methadone?
Methadone is an effective and cheaper option for the treatment of opioid use disorder. This is why doctors prescribe it – to allow patients to get access to more affordable pain relievers.
However, taking methadone for a long time can lead to addiction. Eventually, a long-term methadone user can experience the side effects below.
Slow, shallow breathing, known as respiratory depression
Clammy or bluish skin
Blue-tinted lips and fingertips
Extreme fatigue to the point of being unable to stay awake
Stupor
Convulsions
Vomiting
Coma
Death
Read more here: Methadone Addiction
lead to death due to convulsions, heart and lung failure, and coma.
We supply drug testing kits that detect a range of drugs including the ones listed below.
What makes our product unique?
12 Panel Now's Rapid Barbiturates Drug Test Strips provide you with fast and accurate results. As a result, there's no time wasted on waiting for lab results!
Just open the pack, dip in the urine sample, and wait for the result.
Our family-owned and operated business provides you with high quality but lowest-priced drug test strips and cups.  Above all, we value integrity and compassionate service.
We strive to serve you better
This is why we pay careful attention to all your needs and preferences, from purchasing to shipping. We want to make sure that every transaction you make with us goes smoothly and at the lowest price, every time, all the time.
And more!
We also ship same-day on all transactions made before 5pm EST to make sure you receive your order as quickly as possible.
Our company takes pride in providing the best 12 panel drug testing cups on the market and we make sure our customers feel appreciated and respected.
Aside from drug testing strips we offer:
Rest assured that all 12 Panel Now products are accurate and have passed the rigorous standards of CLIA and FDA.
12 Panel Now's Methadone drug test kit uses the lateral flow assay (LFA) technology.
This paper-based platform has the following qualities:
detects substances in complex mixtures like urine
made up of membranes infused with specific chemicals that help pinpoint the presence of specific drugs in pee
All you need to do is to dip the drug test strip into the urine, then wait for a few minutes. This gives the strip enough time to absorb the urine. Then, read the results.
Easy drug testing at a price you can afford!
Yes, it does. It can show up on 10-14 panel drug test cups, dip cards, mouth swabs, or a methadone drug test strip.
It depends on their preferences. Some companies do and are allowed to test for as many substances as they choose.
Read more here: Drug Testing
No, it doesn't. You'll have to use 10-14 panel drug test cups, dip cards, mouth swabs, or a methadone drug test strip for this purpose.
Methadone can stay in your system from 2 to 13 days.
12 Panel Now carries over 20 types of drug test strips you can use for detecting a specific substance in human urine.
12 Panel Now's List of Drug Test Strips
Other strips
12 Panel Now is a family-owned business that cares about you and your organization.
And we understand your drug testing needs. That's why we do our best to provide you with top quality, but low-cost, 99% accurate, CLIA-waived, and FDA-approved drug testing supplies.
Additionally, our products have a 24-month shelf life from the date of manufacture.
Something wrong with your products?
If there is something wrong with your product, call us at 888-936-6627 or 561- 409-5151, or email us at [email protected] We will replace it for you.