5 Panel Urine Drug Test – DOT Drug Test
The 5 Panel Urine Drug Test is a Simple and Effective Tool for Screening – Either At-Home or in a Clinical Environment!
It Detects up to 5 Drugs at Once; The Same Drugs Normally screened on all Standard 5 Panel Drug Tests – AMP/1000, OPI/300, COC/300, PCP/25,  THC/50
The 5 Panel Drug Screen is one of the Most Popular Tools used by Private Employers for Workplace Drug Tests.
The 5 Panel Test is also known as the Go-to Drug Test for the Department of Transportation DOT
Quickly, Easily, and Accurately Detect Controlled Substances in Urine with the 5-panel Drug Test.
Developed with Fast, Foolproof Use in Mind, This 5-panel Urine Drug Test Is Straightforward to Use and Provides Clear Unambiguous Results.
This Test Is Suitable for the Detection of Both Illegally Obtained and Prescription Controlled Medication. Suitable for Individual Use, or as an Accurate Testing Option for Employers, Government Agencies, or Related Professionals, the 5-panel Instant Drug Test Is Extremely Accurate and Is Simple to Complete and Interpret.
What Drugs Are Tested in a 5 Panel Drug Screen?
| | | | |
| --- | --- | --- | --- |
| Drug Name | Abbreviation | Detection time | Cut-Off Level |
| Amphetamines | AMP | 1-2 Days | 1000 ng/mL |
| Oxycodone | OXY | 1-3 Days | 100 ng/mL |
| Cocaine | COC | 2-4 Days | 300 ng/mL |
| Phencyclidine | PCP | 7-14 Days | 25 ng/mL |
| Tetrahydrocannabinol | THC | 5+ Days | 50 ng/mL |
How to Use a 5 Panel Urine Drug Test?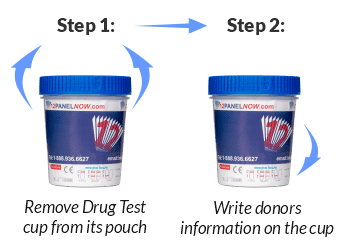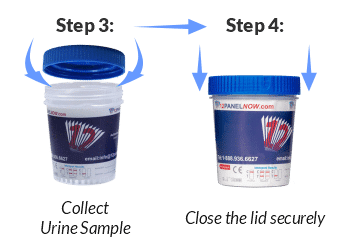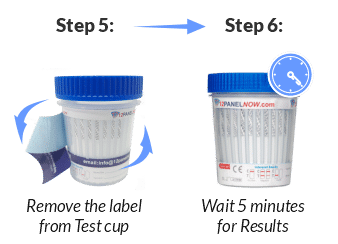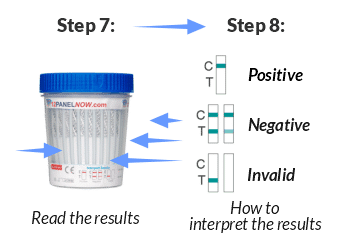 How to Read a 5 Panel Urine Drug Test Cup?
DOT 5-panel Drug Test Picks up Five Common Groups of Controlled Substances
A large number of controlled substances that have been ingested can be excreted in the urine. This DOT 5-panel urine drug test is designed to pick up five common types of controlled substances. These are opioids (OPI), cocaine (COC), amphetamines (speed) (AMP), marijuana (THC), and phencyclidine (angel dust) (PCP). The tests are 99.9% accurate. Even if the test subject has been ill, or is under the influence of other drugs, including alcohol, the test will still give an accurate reading for the presence of the substances mentioned above.
Used by the DOT
A DUI offense can be committed when a driver is under the influence of drugs (including prescription drugs) as well as, or instead of, being under the influence of alcohol. The DOT drug test on offer here is virtually identical to the one used by the DOT to test for the presence of controlled substances.
It is also suitable for employers to use as part of a random drug-testing program.
5-Panel Drug Test is Simple to use
Using this standard 5-panel drug test couldn't be simpler! Test subjects simply provide a urine sample. This may be directly into the cup, or a small amount can be poured into the test cup from another clean vessel. The cup comes with a water-tight, screw-on lid, that ensures the testing process is as hygienic as possible. The inside of the cup is lined with a number of test strips, each of which contains a compound that reacts with the controlled substance it's intended to detect.
Ready in just a few minutes, results show up clearly on the test strips and can then be interpreted, using the results guide.
The test requires no specialist equipment to be completed. Everything needed to perform the test is included with the kit, which is suitable for both home and/or professional use.
Interpreting the Results Couldn't be Easier
If the DOT drug test kit detects that a controlled substance is present, this will show up on the relevant test strip. The strips are calibrated so that they are extremely sensitive to the presence of even a small quantity of controlled substance. The calibration is equivalent to the DOT drug test cut-off levels. In simple terms, if the test subject tests positive on one or more of the test strips, they will test positive if subjected to a DOT drug test to establish whether they are DUI.
The test strip results are very simple to read and extremely accurate.  Nothing needs to be added to the cup to get results – if a controlled substance is present in the urine sample, it will trigger an easily identifiable reaction on the relevant test strip. The tests are also very reliable – if there is no reaction from the test strip, this means the urine does not contain any of the controlled substances being tested for.
Who is this DOT Drug Test Kit Suitable for?
This is a pharmaceutical-grade DOT drug test panel cup that's a great option for anyone that needs to test for the presence of the controlled substances listed above. It's simple enough to be suitable for at-home testing, as well as appropriate for use in a professional environment.
If you need a fast, convenient, and highly accurate test that can detect the presence of opioids, cocaine, marijuana, PCP, and/or amphetamines, this product is the perfect option.
Cost-effective Testing Solution
Our aim is to offer users a cost-effective testing option that provides excellent value for money. We apply discounts to higher volume orders, enabling you to get the testing cups you need for less when you stock up and buy 5-panel drug test kits in bulk.